Electronic access systems - access control for all needs
Tasks of an access control system
The basic task of an access control system is to decide where, when and who is allowed to enter a secured area according to predefined regulations such as access rights. Securing critical and vulnerable areas by means of access control often poses great challenges to companies. In addition to technical issues and new standards such as OSDP, a multitude of organizational, regulatory and legal aspects, such as in the standard DIN EN 60839-11-x must also be taken into account.
By means of an access system, authorized employees of a company are granted access to rooms, buildings or entire areas through simple and fast identification, while unauthorized persons are prevented from gaining access. Targeted access control is thus an important basis for a comprehensive security concept.
Why the term "access control" is actually misleading
Access systems are often also referred to as access control. This is probably due to an incorrect or inaccurate translation of the English term "access control". The German term "Zutrittskontrolle" (access control) suggests that it is about controlling employees. However, the aim of an access system is rather to regulate access - i.e. to ensure that only authorized persons can enter an area or open a secured cabinet, for example. It is primarily a matter of security and damage prevention.
What does an access system regulate?
The access system should exclude unauthorized persons, but restrict authorized persons as little as possible. It therefore regulates
-         Who (defined group of persons)
-         How (type of authorisation)
-         When (time-based differentiation)
-         Where (defined areas, rooms, etc.)
access is granted.
By securing critical and vulnerable areas through access control, only authorized persons with an employee ID card are granted access to secure areas. Vandalism, sabotage, terrorism, burglary and theft, as well as rising white-collar crime, highlight the existing need for security systems such as access control.
How do electronic access systems work?
People are identified by means of identification media or ID tags such as ID cards, key fobs, transponders with PINs and passwords or with biometric recognition features. By means of stand-alone or terminal-integrated identification systems at entrances to a building, underground car park, singularisation facilities, etc., the badge data and authorizations are checked and the access system is controlled accordingly.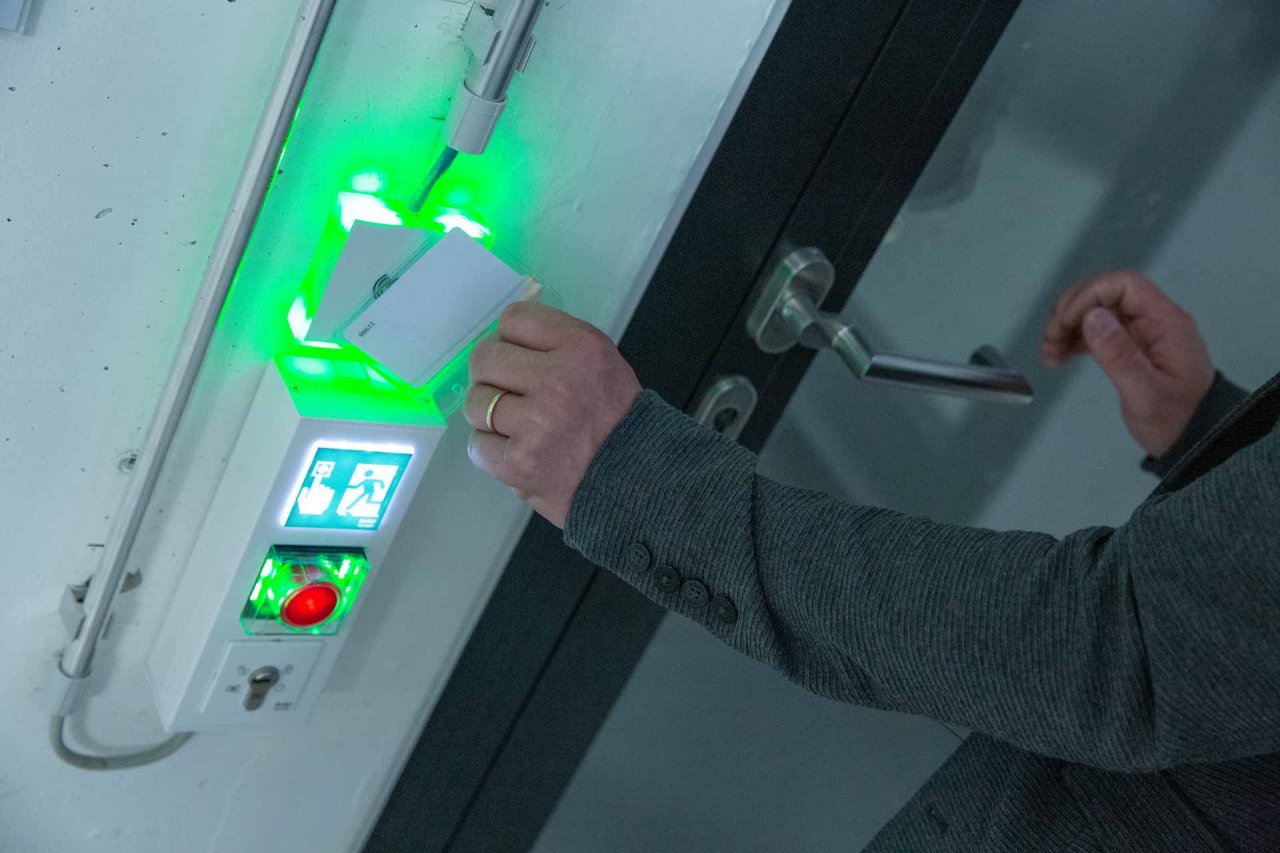 Planning and consulting
When planning, installing, commissioning and operating an access control system, it is important to consider not only the security aspects in comparison to burglar alarm systems or fire alarm systems, but also major organisational issues.
We will be happy to advise you and assist you. We also support you with regulatory and legal issues. With us, you are guaranteed to find the best solution for your needs. We take care of the planning, project management, installation and maintenance of the access system for your company, from small stand-alone access systems to virtually networked mechatronic systems and global enterprise systems.
We find the right recognition method for you, such as passive RFID badges (smart cards) and key fobs, QR and barcode, PIN, biometric methods as well as NFC and BLE using smartphones in cloud-based environments.
We often complement or combine our solutions with subsequent modules such as video surveillance and intrusion detection technology, visitor management and contractor management, access control or vehicle number plate recognition, car park management, lift control, lock control and guard control.
Our access control systems are a valuable component of security and building management systems. We can integrate the following systems according to your requirements and needs:
Visitor management

Time recording and time management

Intruder alarm systems

Video surveillance systems

Escape and rescue route technology

Separation systems and barrier systems

Automatic doors, doors with security and motor locks
 If required, we can integrate these systems by means of a higher-level hazard management system, which often results in further organisational advantages.