Video Surveillance System (VÜA/VSS)
IP-based video surveillance technology
Anyone who is involved in professional video surveillance knows that it is planned, designed and installed in accordance with the international standard DIN EN 62676 or VdS 2366. Modern IP-based video surveillance systems are used. From small NVRs to large complex server-based video surveillance systems and cloud solutions, individually tailored to the customer's needs. IP-based video surveillance systems have one thing in common. They are network-based, which requires sound expertise in network technology for implementation and maintenance. The network must be planned and installed in such a way that it meets the requirements of the video surveillance system used. Another very important issue is network security. An unsecured network offers a lot of room for unauthorized access, and can be a weak point and therefore a point of attack of any security system. Here it is important to take security measures, locate weak points and remedy them accordingly.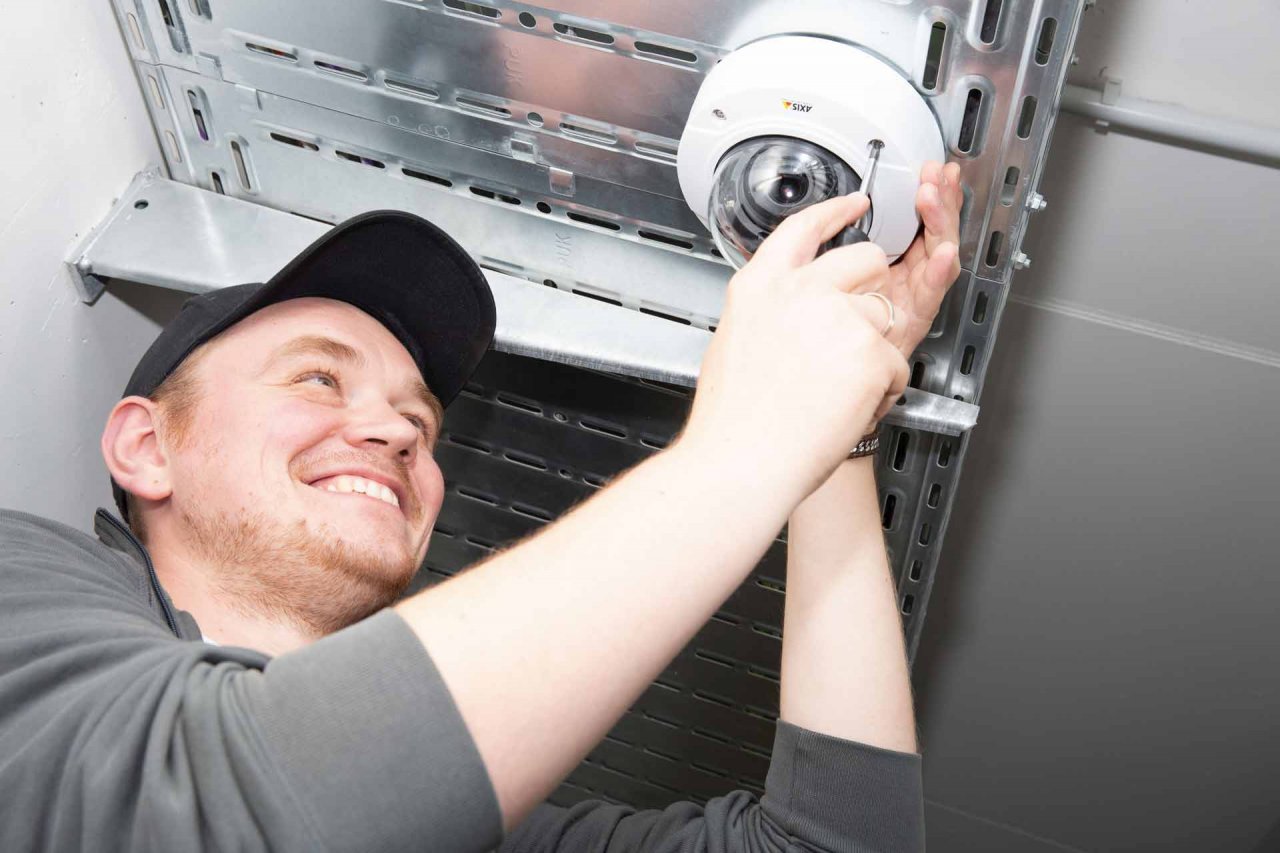 A well-planned video surveillance system does not only include a secure and high-performance network, but also the selection of the right systems and peripherals. Because not every camera and every system is the same and the right choice for every application. With the right choice of suitable systems, peripherals, well thought-out planning, project management and implementation based on the standard DIN EN 62676, video surveillance is effective, preventive and serves law enforcement, among other things.
As installers, we know that professional video surveillance technology is demanding and combines competences from a wide range of specialist areas. Thus, our specialist areas work hand in hand, based on the standard DIN EN 62676, to provide our customers with high-performance products and a great service.
Analogue video surveillance technology and integration of legacy systems
With the arrival of IP-based video surveillance technology in the security market, analogue video surveillance systems are increasingly becoming outdated. The advantages of IP-based systems are clear, but not everyone can or wants to completely modernize their inventory. Here, with a lot of experience, it is necessary to work out a well-considered strategy and planning to successively modernize the old stock over a longer period of investment and  time. This is very manageable for small video surveillance systems, but often a challenge for large or complex analogue video surveillance systems. It is important to work with professionals who have in-depth knowledge of analogue and digital video surveillance technology. Professionals who understand how to combine these techniques.
As installers of video surveillance systems, we design and plan based on the standard DIN EN 62676. With our specialist area of video surveillance technology / video analysis, we can implement partial or holistic modernizations of analogue video surveillance systems to modern IP-based systems.
Video analysis
Identify security risks and events in advance within a video image, avoid critical incidents, and take appropriate action.
This is about video analysis or video content analysis (VCA). The basic task of these technologies is to detect changes in video sequences (video images) and to evaluate them based on preset parameters. The principle is to compare several video images/sections that lie in a defined temporal range with each other. Intelligent algorithms generate metadata that can be used, for example, to recognize people, vehicles and other objects, to analyze their behavior and to process the collected information - all in real-time evaluation.
Put simply, individual video images are compared with each other in real time, information on them is collected, evaluated and appropriate actions or measures are initiated. 
Unlike years ago, when video analytics was still a niche product, today there is a multitude of video analytics, manufacturers and application possibilities on the market.
The options range from very simple analyses that only detect that something is moving in the video sequence/video image to complex analyses that can be optimally adjusted to the scene that is being monitored and guarantee a high detection of "real alarms" with sophisticated evaluation procedures.
Properly planned and projected, video surveillance systems (VÜA, VSS) with video analysis offer a real preventive character, unlike pure video surveillance systems. They reliably detect security risks and events in advance, can avoid critical incidents and initiate appropriate measures. This is highly effective 24 hours a day, 365 days a year.
With a large number of video sequences (video images) being viewed in real time by security guards, it is easy to lose concentration on the essentials. Here, video analysis can have a supporting function. For example, with the help of video analysis, it is possible for the operator of a video surveillance system to display and process only the relevant events among a large number of video sequences (video images). There are also areas of application where intelligent video analysis can completely eliminate the need for guards. This provides added value for owners and operators of a video surveillance system (VÜA, VSS).
Intelligent video analysis provides:
-         Perimeter and site security (open space, fence, building and entrance surveillance)
-         Area, corridor and room surveillance
-         Intelligent search functions in recordings
-         Event-controlled recordings
-         Securing of underground and above-ground railway facilities, platform and track bed monitoring
-         Loiterers/loitering alarms
-         Face recognition
-         Detection of abandoned luggage
-         Sabotage protection (twisting, spraying, covering etc.)
-         Payments (persons, vehicles, objects)
-         Number plate recognition
-         and much more.
At Nutz, we believe that video analysis is becoming increasingly important in security technology. It offers future-proof  or replacement technology to what is currently available. With our specialist area of video surveillance technology / video analysis, we have the competence in-house to advise, plan, project manage and implement, regardless of which manufacturer.
Consultation, planning and project management of video surveillance systems
Anyone who wants to set up and operate video surveillance systems in a professional environment will have to deal with standards, regulations and laws during the planning, design and implementation phase. In addition to the existing, highly regulated building industry standards, the standard DIN EN 62676 and the European DSGVO, whichregulates and protects the privacy and interests of everyone, need to be followed.
In the standards specified in DIN EN 62676, protection goals and scope of action are defined during the planning phase based on pre-identified risks and boundary conditions. A detailed risk analysis and risk assessment are carried out and then on the basis of this, a security level is determined, which results in, among other things, the functional scope and the components used in the video surveillance system. These are recorded together with further details such as operating requirements, justifications and objectives. The operational requirement is the basis for the next phase, the project planning. In this phase, hardware and software - the individual components - are selected and a system design including plans and implementation are drawn up. In addition, the development of a necessary test plan also takes place in this phase. Once the project-planning phase is completed, the installation, commissioning and finally handover of the video surveillance system begins.
Anyone who wants to plan and configure video surveillance correctly needs a lot of experience and sound specialist knowledge. Our Video Surveillance Technology / Video Analysis department is your competent contact partner who can plan and implement its own video surveillance systems and those of our partners', independently of manufacturers. We know what is important and can deliver security systems that meet what we promise.
Perimeter protection
The term perimeter protection is used in security technology when it comes to monitoring open areas, the surroundings of a building/property, its walls, fences or other barriers. Depending on the project requirements, the implementation can be realized with different technologies or combinations thereof. One of these technologies is video surveillance. In combination with video analysis, this has been an integral part of perimeter protection in prisons, forensics and the military for years. Video analysis is also firmly established in critical infrastructure, such as airports, the automotive industry, public utilities, transport companies and many more. Many small and medium-sized enterprises that have recognized the potential of video analytics are enjoying more and more of this technology and its application possibilities. With the multitude of video analytics and application possibilities, this technology also offers many effective possibilities with added value for private buildings/properties, holiday homes or second homes.
In highly sensitive areas, the focus is often on absolute security. Protection has the highest priority, whether from inside or outside. Thus, technologies are often combined in these areas. E.g. radar, microwaves, infrared or fence detection. The perfect interaction of these technologies is crucial and provides protection at the highest level.
We at Nutz have been successfully planning, designing and implementing security systems for many years. In the field of perimeter protection, we rely on manufacturer-independent technologies that work extremely reliably even in the most difficult weather conditions with a minimum false alarm rate.
CyberSecurity / Network Technology
Connectivity, a trend that has also arrived in security technology and is becoming increasingly important. The advantages such as cost efficiency and reduced administration effort are convincing arguments in this context. The prerequisite for their realization is the use of open platforms and standardized protocols. This is a development that we very much welcome, but we are also aware of its risks and hurdles. Especially in security technology, it is important to secure the systems and technology with a necessary degree of sensitivity. After all, they should offer the desired security and not become a target for criminal activities. The operator and owner are also legally liable for this, because they are required by law to ensure appropriate security in this regard.
Unfortunately, in everyday life, especially in the field of video surveillance, one finds a large number of installed and operated systems that do not comply with the legal regulations. The reasons are many and varied, such as lack of expertise or price pressure. However, those who decide in favor of professional security technology should not only focus on the price, but also on the associated services. Those who want security must also be prepared to pay for it in the form of additional costs.
Our security technology, IT and system integration departments are ideally positioned to take on these challenges because of our up-to-date expertise. We secure networks and security systems for secure operation, and help secure existing unsecured systems in security technology.